JVA Quick Start Guide: Wi-Fi Gateway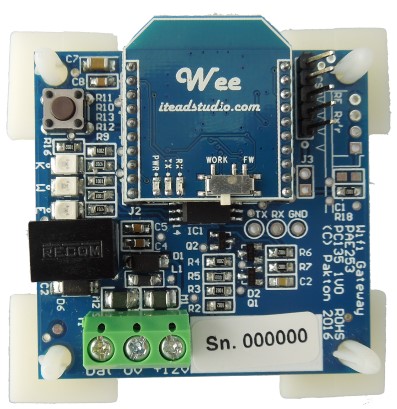 Introduction
The PTE0253 JVA Wi-Fi Gateway connects a group of JVA Z Series devices to the Cloud Router™ system via an existing Wi-Fi network.

This quick-start guide tells you how to program the devices, and connect and configure the PTE0253 Wi-Fi Gateway.
Specifications
Electrical Supply
12 V DC
Power comes from the Keypad Bus connection
Communications
Keypad Bus
Up to 15 Z Series devices can be connected
Unit uses Keypad ID 6
RED Wi-Fi
802.11 a/b/g
Wi-Fi Security
Open, WEP, WPA/WPA2 PSK
Hardware Description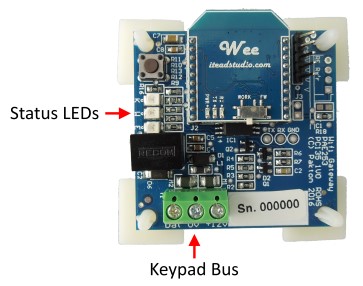 LED Indicators
| K | Blinks when the unit is communicating with Z series devices |
| --- | --- |
| W | Indicates the state of the Wi-Fi connection |
| E | Flashes an error code if there is a problem with the unit or group |
Before You Start
Important: Make sure one Z Series device is programmed with ID 1.
Ensure the Z Series devices are configured appropriately. Power up all devices and make sure they are disarmed. Refer to device manuals found at http://www.jva-fence.com/downloads.php
If any keypads are connected to the group, make sure they are not on keypad ID 6.
Make sure the Wi-Fi Gateway is in range of your Wi-Fi network, the Wi-Fi network has a working internet connection, and you know the network name (SSID) and password.
Installation
Connect the Keypad Bus wires from the energizer to the Wi-Fi Gateway.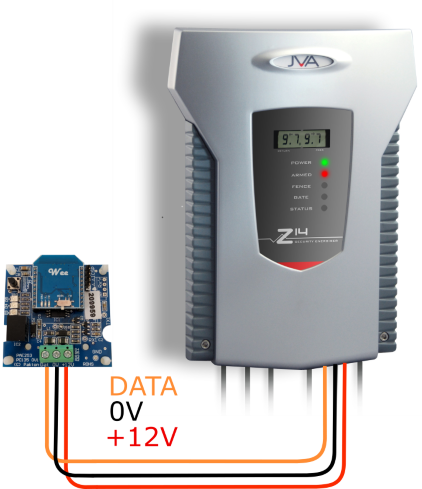 Confirm the 'K' light is flashing, and the 'E' light is not flashing.
It is recommended to complete Wi-Fi network set-up before final installation, in case access to the push button is required.
The Wi-Fi Gateway is fitted with adhesive feet and can be fitted to an enclosure wall, or inside a Z series energizer case. If it is installed inside a Z series case, make sure it is not placed within the red 'X' as it will be too close to high voltage elements and could result in damage to the Wi-Fi Gateway or energizer.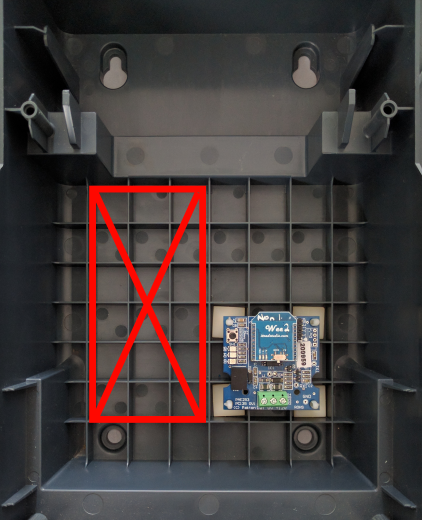 Wi-Fi Set-Up
Install and run the 'Nimbus Wi-Fi Gateway Setup' app from the Google Play Store.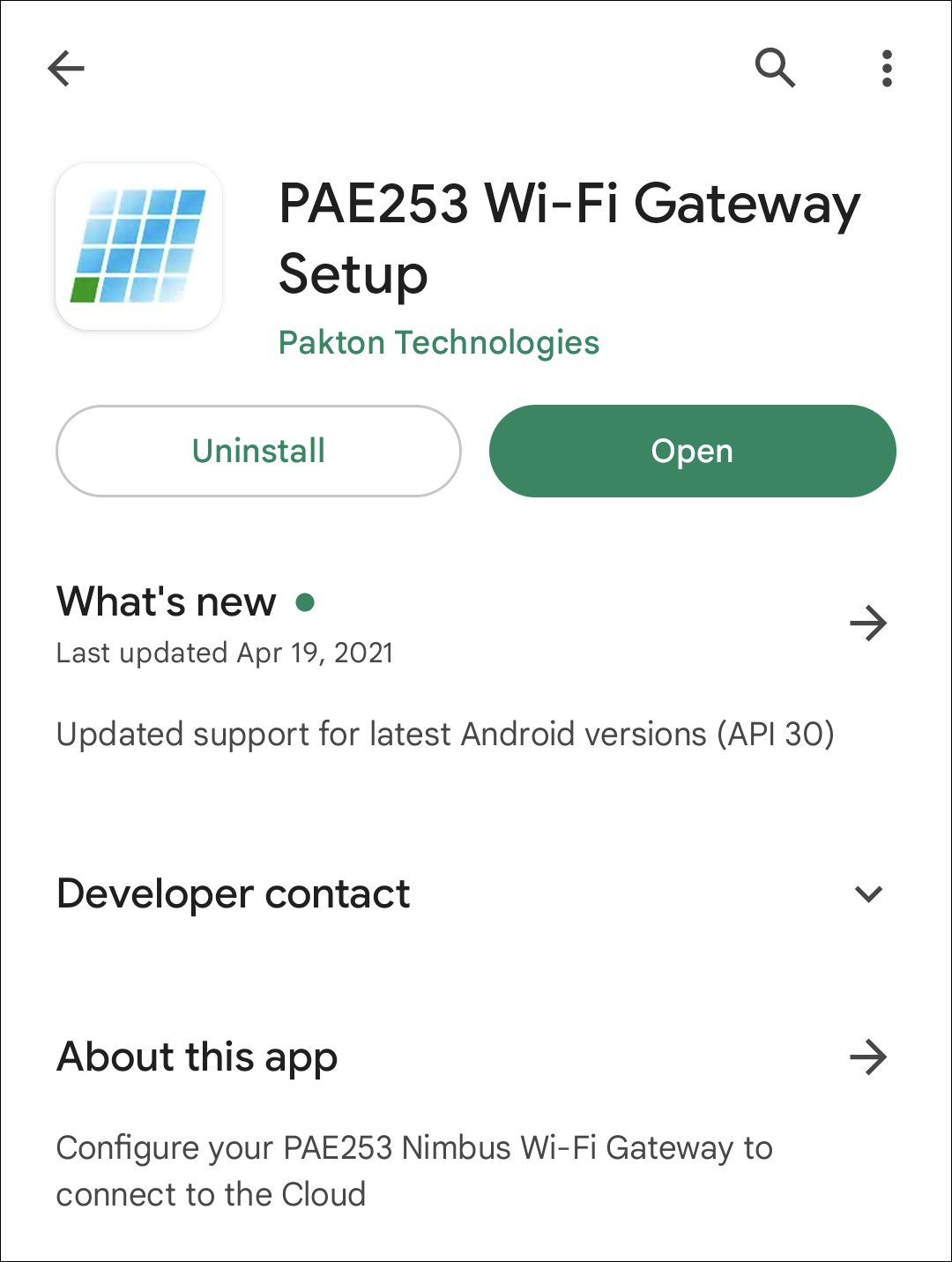 Press 'Start'. The app will begin searching for your Wi-Fi Gateway.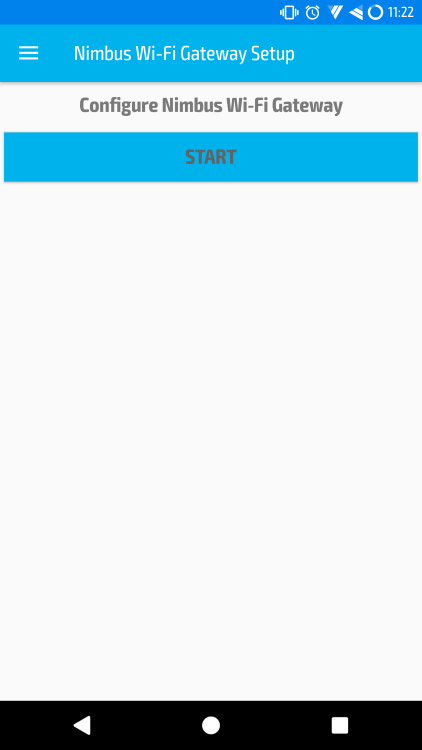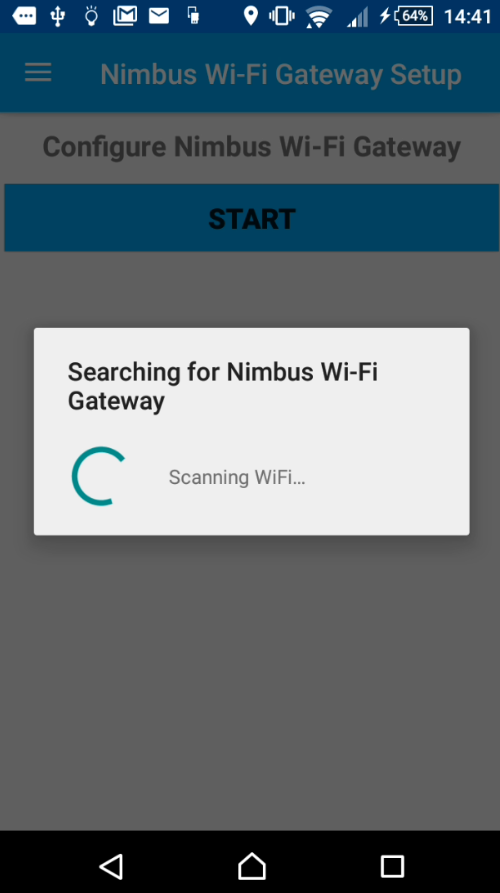 Choose your Wi-Fi network name (SSID) from the drop-down list.
Enter your Wi-Fi network password. Press 'Submit'.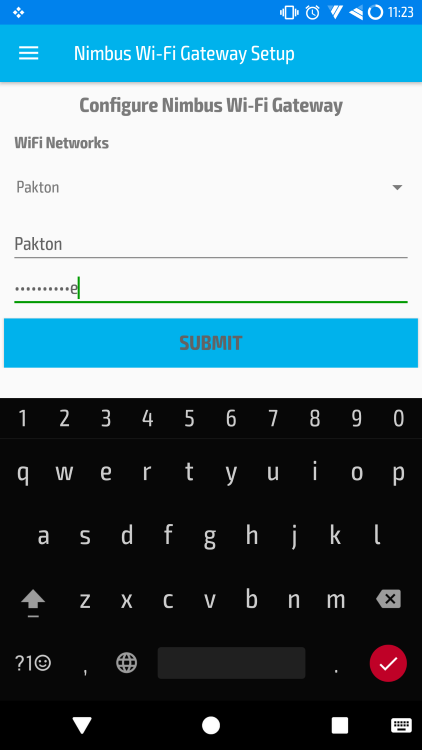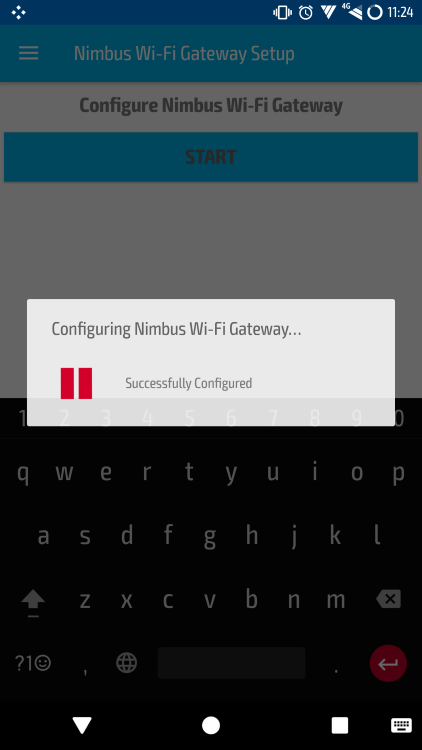 The 'W' LED on the Wi-Fi Gateway will begin blinking twice to indicate it is trying to connect to your Wi-Fi network. It should go to a slow blink within 30 seconds. If it does not, the most common cause is an incorrect password. Remove power from the connected energizer, hold down the Gateway push button, re-apply power to the energizer, wait until the Gateway LEDs blink rapidly, then release the push button. You can now repeat the Wi-Fi setup procedure.
If the Gateway 'W' LED is blinking slowly, you are ready to add your devices to the Cloud Router™ system.
Configuring the Cloud Router™
Go to www.jva-fence.com/security/cloudrouter for the Cloud Router™ setup guide.
Troubleshoot
Failure
Probable cause
Solution
No lights on
Connected energizer is off
Power is not connected
Power wires are reversed
Connect power to energizer
Check keypad bus +12V and GND connections
Check voltage at keypad bus +12V and GND connections with a multimeter
LED 'K' does not flash
Keyboard bus is not connected
Check the keypad bus DATA and GND connections
LED 'W' flashes once
Wi-Fi not configured
Configure the Gateway using the Nimbus Wi-Fi Gateway Setup app. See section 'Wi-Fi Set-up'
LED 'W' flashes twice
App can't find gateway
Incorrect Wi-Fi password
Gateway already (incorrectly) configured
Reset Gateway (see below) and reconfigure as per section 'Wi-Fi Set-up'
App does not show Wi-Fi networks
Poor signal strength
Move the Wi-Fi router, change antennas or install a Wi-Fi range extender
Unit does not control the energizer(s)
Master energizer is not polling Gateway
Reset the group master (ID 1) by turning off and on again
Another keypad or keypad device is connected with keypad ID 6
Disconnect the other keypad, or change its keypad ID to something other than 6
Group configured incorrectly
Ensure at least one energizer as master (device ID 1) and any others have unique device IDs of 2 or more
If the unit is still not working correctly, contact your nearest JVA distributor for technical support.
Reset the Wi-Fi Gateway
If the Wi-Fi configuration is incorrect, the Gateway will need to be reset.
Remove power from the Gateway, by removing power from the connected energizer
Hold down the Gateway push button
Apply power to the energizer while still holding the Gateway push button
Wait for the Gateway lights to flash in a regular pattern
Release the Gateway push button
If the Gatewa has been successfully reset, the 'W' light will be flashing once.
JVA Distributors
If you have questions or need further assistance, please email us at sales@jva-fence.com.au or call:

| Region | Number |
| --- | --- |
| Chile | 02 2211 80 00 |
| Australia | 07 3103 0582 |
| South Africa | 0861 782 349 |
| World Wide | +61 7 3103 0582 |
For more information on our range of electric fence products visit the JVA website at www.jva-fence.com