JVA Quick Start Guide: Cellular Gateway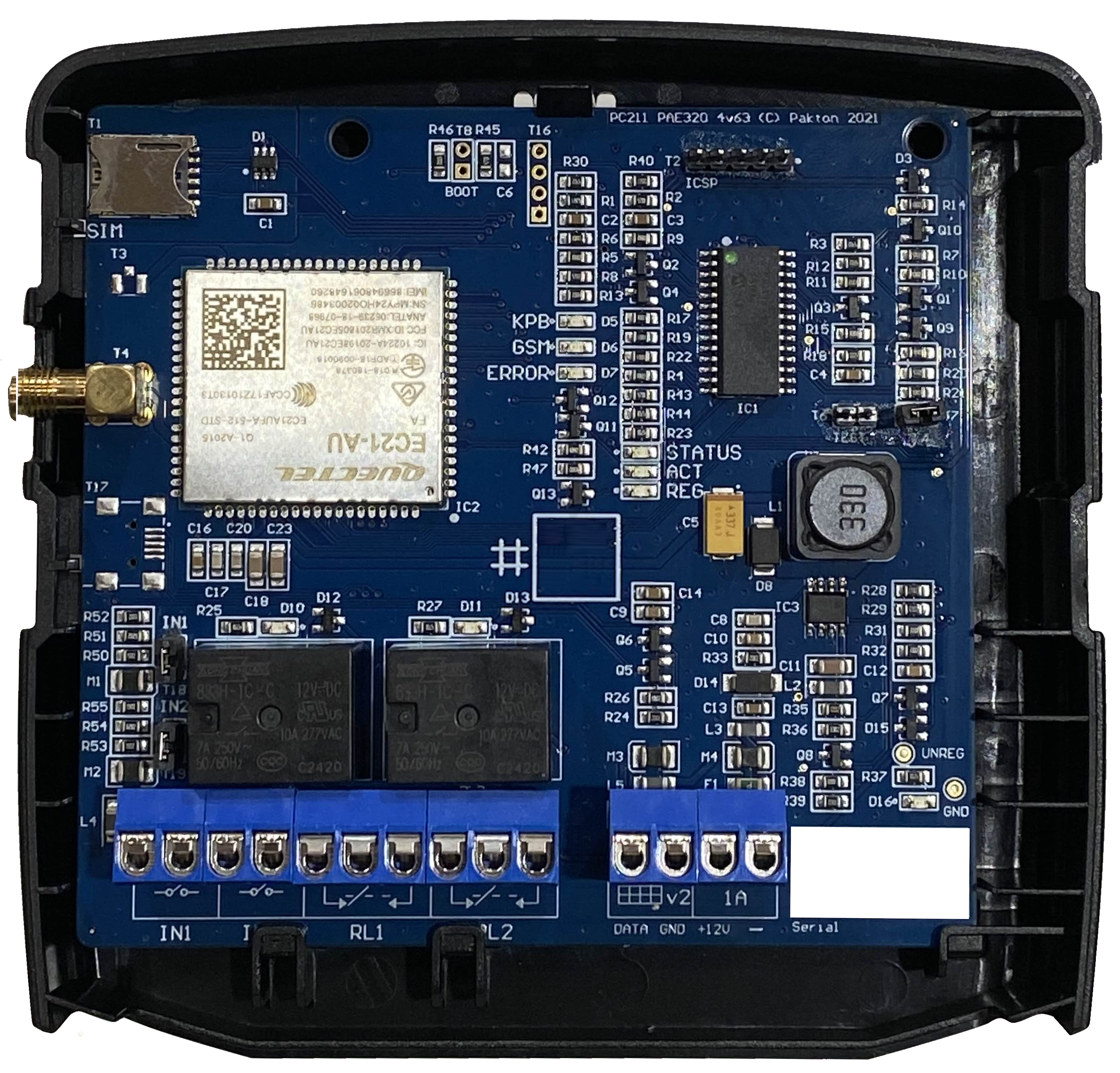 Introduction
The PTE0320 JVA Cellular Gateway connects a group of JVA Z Series devices to the Cloud Router system

This quick-start guide tells you how to program the devices, and connect and configure the PTE0320 Cellular Gateway.
Specifications
Power Supply
12V DC 1A
Separate power supply recommended
Communications
Keypad Bus
Up to 15 Z Series devices can be connected
Unit nominally uses Keypad ID 8
Inputs (2)
Dry contact or active pull-down
Responds to terminals being shorted OR connect
the right-hand terminal to 0V
Outputs (2)
30V DC 8A SPDT
SIM
Micro
Network
2G (PTE0320_2G) 850/900/1800/1900MHz
3G (PTE0320_3G) B1/2/5/6/8/19 + 2G as above
Antenna connector
Female SMAK
Ensure antenna is mounted away from sources of interference such as AC or high voltage cables.
Antenna should be mounted external to any metal enclosures.
Hardware Description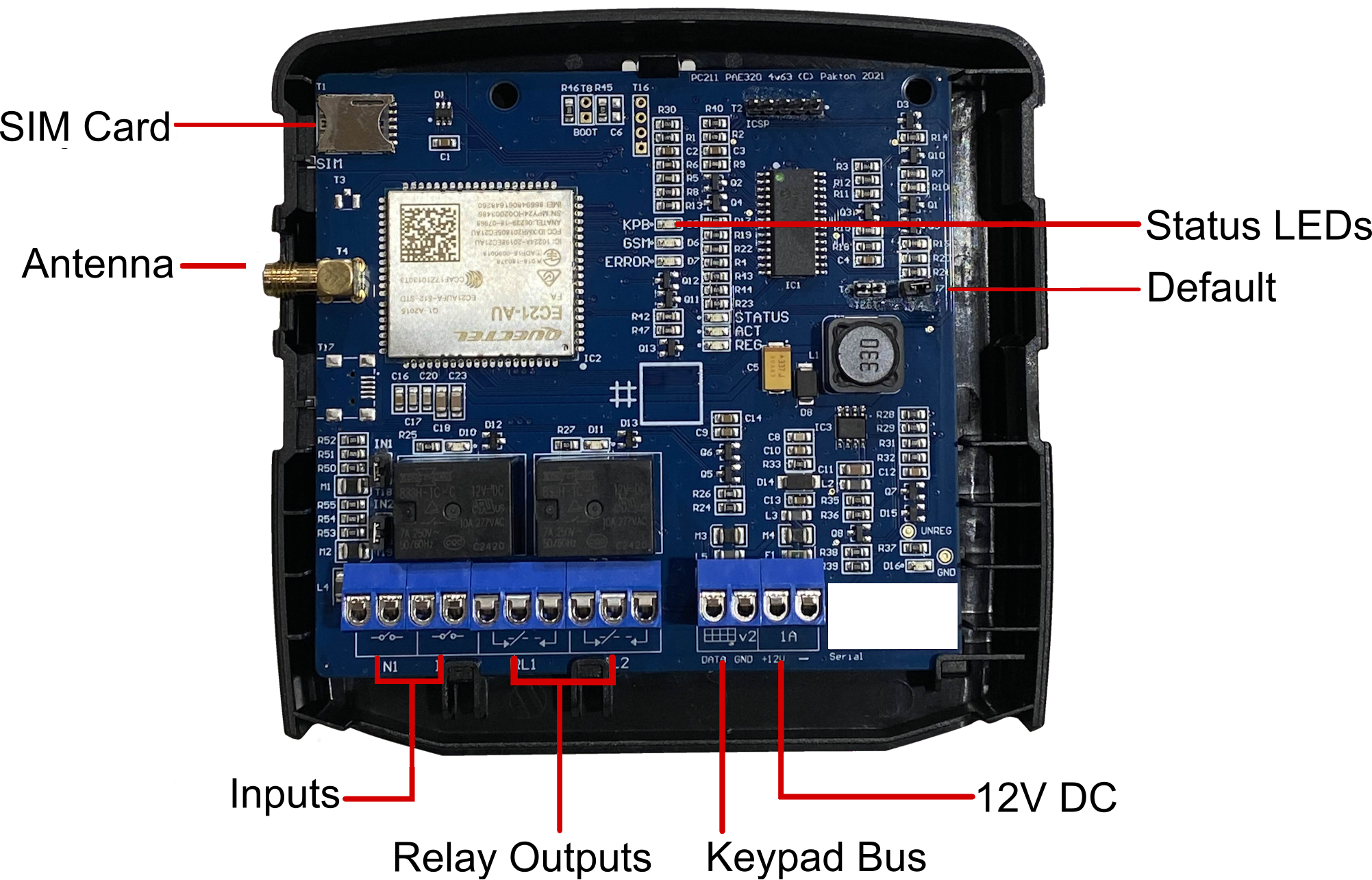 LED Indicators
| KPB | Blinks when the unit is communicating with Z series devices |
| --- | --- |
| GSM | Blinks when the unit can receive SMS Fully lit when connected to the Cloud Router server (can also receive SMS) |
| ERROR | Flashes an error code if there is a problem with the SIM or Cellular network |
Before You Start
Important: Make sure one Z Series device is programmed with ID 1.
Ensure the Z Series devices are configured appropriately. Power up all devices and make sure they are disarmed. Refer to device manuals found at http://www.jva-fence.com/downloads.php
If any keypads are connected to the group, make sure they are not on keypad ID 8.
Activate your SIM card and test it in a mobile phone. The gateway predominantly uses data, typically less than 1MB per day, so a long term pre-paid plan of >500MB per year is recommended.
Installation
Un-clip the circuit board from the case back. Mount the case back using suitable screws.
The unit is not water-proof and must be mounted indoors or in an enclosure.
Insert SIM card and connect the antenna. Clip the PCB into the case back.
Connect the Keypad Bus wires from the energizer to the Cellular Gateway.
If you are using a separate power supply for the Cellular Gateway, connect only the DATA and GND to the energizers.

Confirm the KPB is flashing, the ERROR light is not flashing, and the GSM light is fully lit. Clip on the case front. If the GSM light is on, your JVA Cellular Gateway is ready to use.
Configuring the Cloud Router™
Ensure you have registered an account at https://cloudrouter.pakton.net/register. The activation email may have gone to your junk folder.
Log into your account at https://cloudrouter.pakton.net/login
Follow the instructions at http://jva-fence.com/CloudRouterGuide.php to set up your site and add your devices.
Troubleshoot
Failure
Probable cause
Solution
No lights on
Connected energizer is off
Power is not connected
Power wires are reversed
Connect power to energizer
Check keypad bus +12V and GND connections
Check voltage at keypad bus +12V and GND connections with a multimeter
LED 'KPB' does not flash
Keyboard bus is not connected
Check the keypad bus DATA and GND connections
LED 'GSM' light is off or flashing
System is still initialising. If problems are detected, the ERROR light will give more information. If the GSM light is flashing it means the unit is not yet connected to Cloud Router but can receive SMS commands.
LED 'ERROR' flashes ONCE
Problem with the SIM. SIM card faulty, not inserted, or PIN locked
Confirm SIM is activated by inserting into a mobile phone and sending and receiving texts
LED 'ERROR' flashes TWICE
Cellular network problem
SIM not activated, banned, or out of credit Poor signal strength
Check SIM plan and credit
Check antenna connection
Move antenna mounting place
LED 'ERROR' flashes THREE times
Cellular internet problem
Plan does not support data, or out of credit
Check SIM plan and credit
LED 'ERROR' flashes FOUR times
Unable to connect to internet
Plan does not support data, or out of credit
APN information incorrect
Check SIM plan and credit
Contact local dealer for APN information
LED 'ERROR' flashes FIVE times
Hardware fault
Contact local dealer
App does not show Wi-Fi networks
Poor signal strength
Move the Wi-Fi router, change antennas or install a Wi-Fi range extender
Unit does not control energisers
Keypad ID clash
Disconnect the other keypad or change its ID
Energiser malfunction
Confirm a JVA keypad can control the energiser using the same connections
Group configured incorrectly
If there is more than one energiser, ensure one is configured as master (device ID 1) and the others have unique device IDs of 2 or more
If the unit is still not working correctly, contact your nearest JVA distributor for technical support.
JVA Distributors
If you have questions or need further assistance, please email us at sales@jva-fence.com.au or call:

| Region | Number |
| --- | --- |
| Chile | 02 2211 80 00 |
| Australia | 07 3103 0582 |
| South Africa | 0861 782 349 |
| World Wide | +61 7 3103 0582 |
For more information on our range of electric fence products visit the JVA website at www.jva-fence.com